Internet comedienne Elsa Majimbo has made many Kenyans proud after being featured on the renowned Television Show Steve Tv Show hosted by the Legendary Comedian Steve Harvey.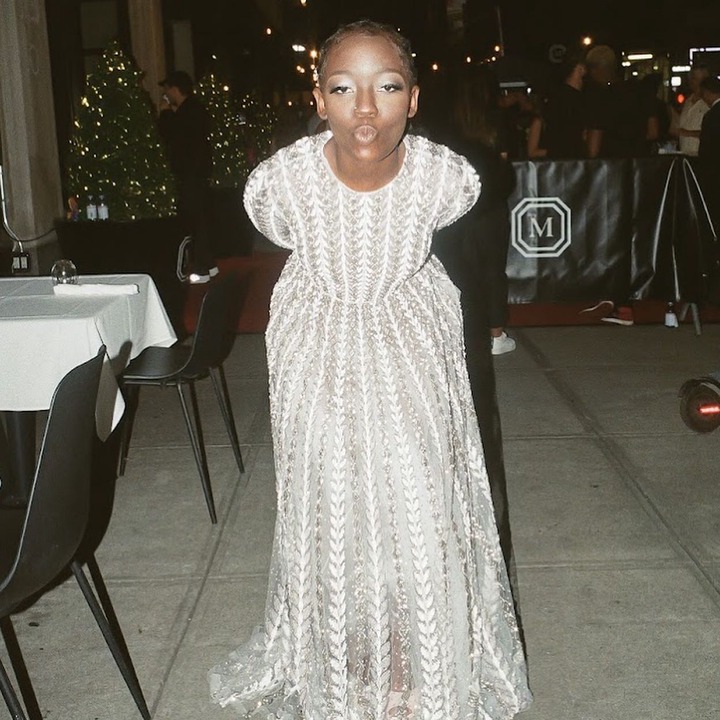 Elsa made a breakthrough on the internet during the COVID lockdown period making short comical clips as she crunched potato chips wearing the 1990's sunglasses.
Appearing on the Steve Show was another height in her career until Steve Harvey surprised her with the promise of taking her in as her niece.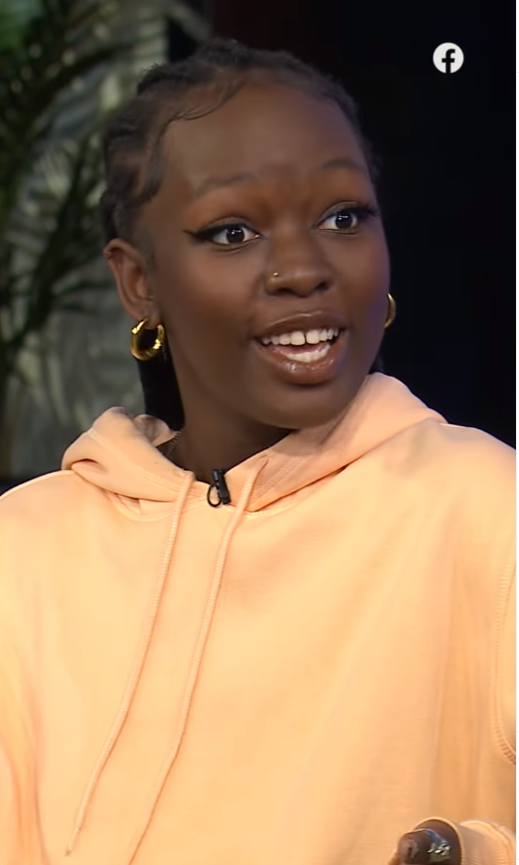 He added that he will give her his personal number and will assist her in her journey no matter what she needs, she will get it.
"Now this is what I will do to you, I will adopt you as my niece. I will give you my phone number, I don't care what you need. If you need anything, If you need a place to go, you need some help, you need some advice, you want to talk to somebody, you call me."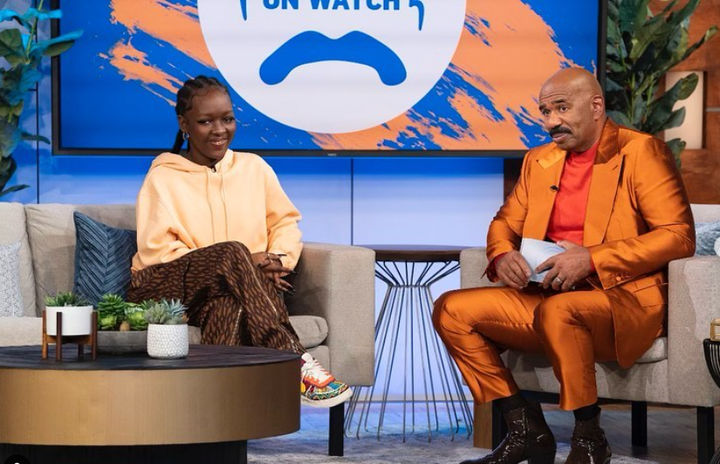 Steve continued that one of his biggest goals has been to close the gap between Africans and the African-Americans living in the United States.
"I am serious, won't let nothing to happen to you, coz it's been one of my main goals to bridge the gap between Africa and African-Americans. If you have never been, you have to go… Elsa, you have got an uncle." Steve Harvey stated in the video as posted online.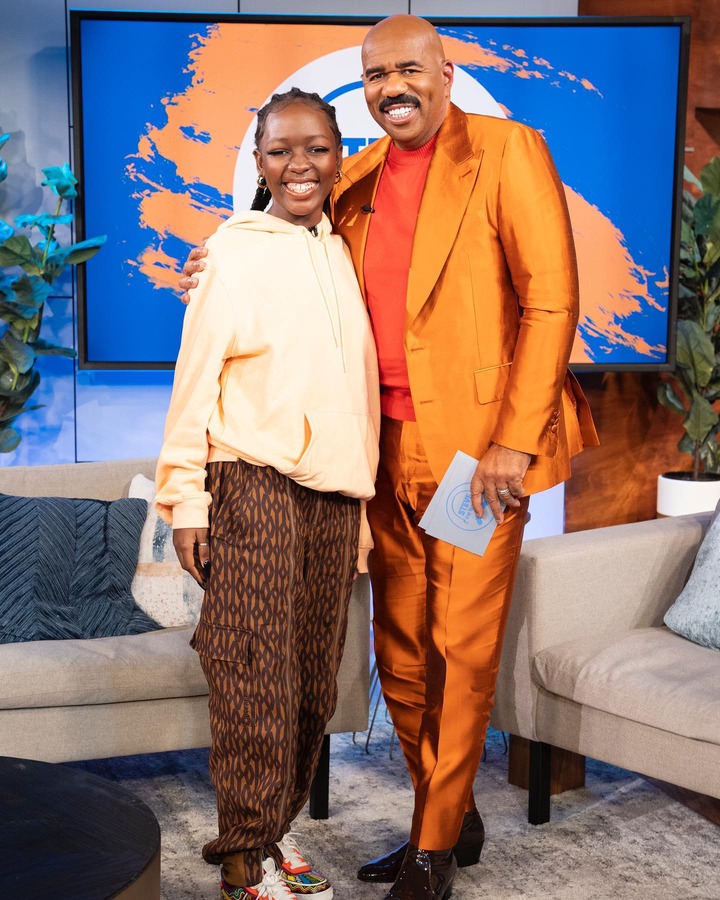 The 20-year-old comedian took to her official social media account and posted that she went to the interview as a stranger and came out with a family.
"An interview that turned strangers into family♥️ I love you, Uncle Steve." Elsa Majimbo posted on her official Instagram account.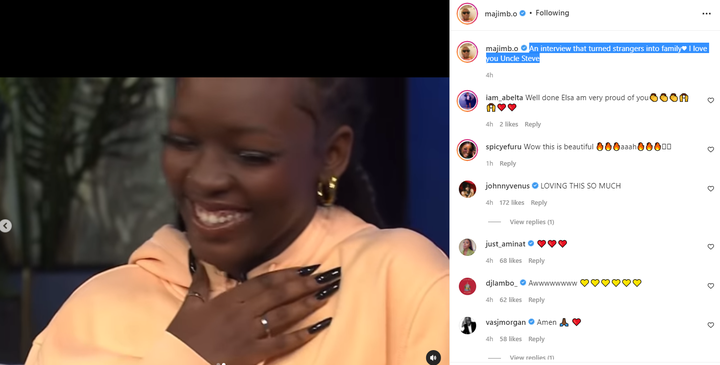 Kenyans have since shown their pride on the young talented many wishing her the very best as she continues to shine on.
Comments from Kenyans and fans about the post by Steve.
Wanjiku Ngigi, "If steve said that too I would literally cry like a small babby😢."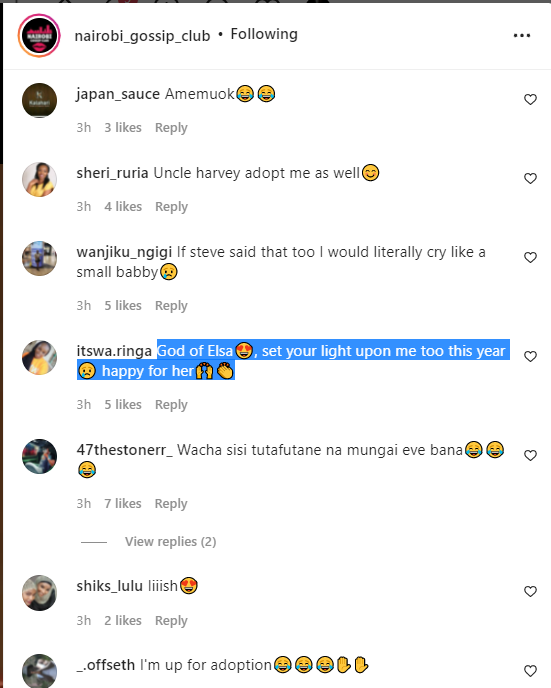 Irene Wasie, "Waaaw this lady is taking Kenya to another level, this is one of the biggest platforms to be interviewed in 🙌. We love and appreciate you Elsa."
Its Waringa, "God of Elsa😍, set your light upon me too this year😢 happy for her🙌👏."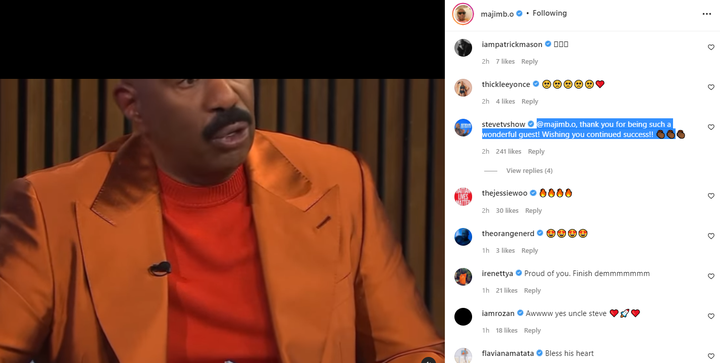 Donna, "he said "Oh my God I'm so funny" 😂😂😂😂😂. Hell yeah, be your own number fan and hype man."
Real Jose, "If you in america 🇰🇪 kenyans will only claim you when you make it its crazy look at all these flags in the comment section🚶🧠."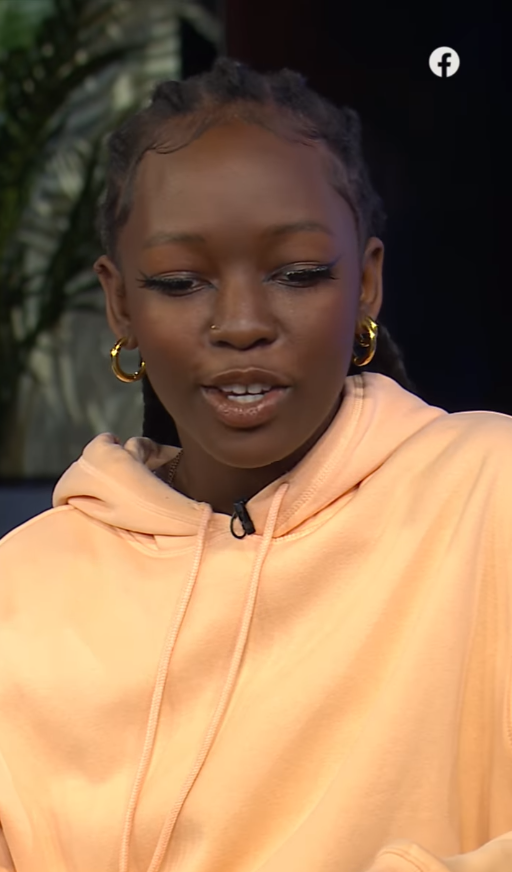 Lee, "Thanks to Steve, for taking that stand to support her, imagine from Kenya to USA, just like that. Gods blessings."